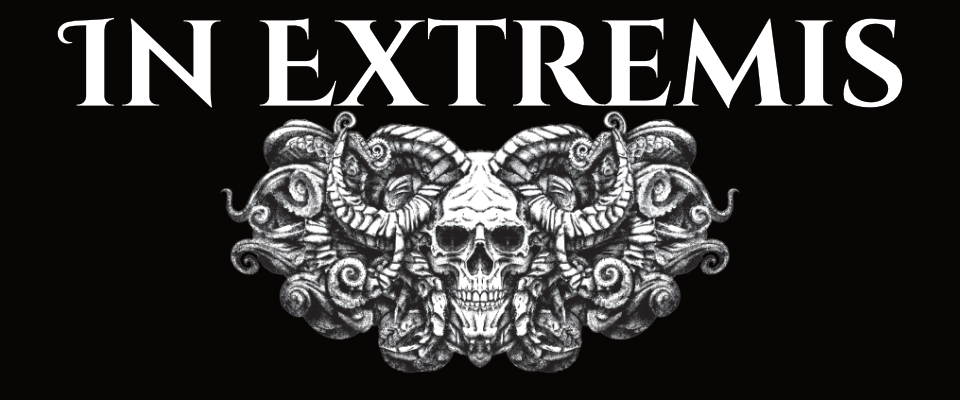 In Extremis
A downloadable necromantic fantasy
Get this necromantic fantasy and 15 more for $65.00 USD
View bundle
I am currently looking for a new distributor for physical copies of the game! For now Digital is once again king.
Check out the First Year content for In Extremis here!
Check out The Animals of Camillus, an In Extremis Adventure by Aaron King

In Extremis
In Extremis is a tabletop roleplaying game designed for 2-6 players, about fighting back the man using necromancy, that uses the LUMEN system by Spencer Campbell. Inspired by The Locked Tomb trilogy, players take on the role of exceptionally powerful witches who use their mastery of life, death, and the human condition to keep them and their own safe from other planetary invaders who want to steal their land.
As a Necromancer, you are one of a handful of hideously powerful death witches that protect the planet Hecate, the final holdout for The Coven, from the ever encroaching war of the Corvus Dominion.
The Quick Start contains:
Basic Rules
6 Enemy Types

3 Pregen Characters
1 Half Creature/Half Spaceship Behemoth
1 Mission entitled "The Death of the Moon" that takes place before the events of In Extremis, and provides a look at the history of the Opiter System, the planet Hecate, and the strange dead moon that powers the Necromancers.
The Full Game contains:
More rules including the use of powerful Banes that massively shift combat, social abilities, and options for leveling to make you and your Spells more powerful.
50+ Pages of beautiful art, and killer layout
18 Enemy Types
9 Character Classes
Even more fucking Lore
Content Warnings
The book contains a fair deal of body horror, talk of death, a photo of a snake, and depictions of warfare. Nothing I don't believe you wouldn't expect from a game about necromancy and war, but be aware going in that those are all in there!

Itchfunding
In Extremis set out as an Itchfunding project and quickly blew past its goals! The itchfunding period is officially over now, and print copies are in the works, but in the mean time I truly believe In Extremis is a great game, and you should still get it! Below were the goals we hit.
$500: In Extremis goes to print. I'm running 100 hard covers, and people who backed the game will get discounts on them when the game comes out. What exactly those discounts will end up at is still in the air, but the general plan is that Hard Covers run around $45 pre-discount.
$800: I hire my husband, Joseph Dunford, on as the editor once again. We have worked together on multiple projects in the past, notably he was the editor on my last game, The Necromancer.
$1000: I hire on incredible Belgium based designer, mv, to make a Star Map of the Opiter System. If we hit 1k before I go to printing, it'll be in the print run, otherwise we'll look at like poster options for it or something. Trust me, you want this.
$1400: Now I we get weird: I hire mv, Josh Hittie, and Revinant to write for the game, and I pay them extremely well. I took pitches from writers, and found people who wanted to do something in a single theme, and what they've come up with will actually blow your mind. This is all going in an upcoming zine for that is free to people who have already purchased the game.
Actual Play
Live Stream with TPK Roleplay's The Top Shelf

Solarcide Campaign Stream with Plus One Exp Part 1

Reviews
mv (0.6 Edition, dead towers) - "in extremis > croissant"
Josh Hittie (Fractal Romance, Death Mask) - "In Extremis is the ultimate necromantic power fantasy. The game is easy to pick up and play, but the killer classes and abilities provide a ton of depth to keep players hooked for a long time. I want to play this game right now."
Purchase
Get this necromantic fantasy and 15 more for $65.00 USD
View bundle
In order to download this necromantic fantasy you must purchase it at or above the minimum price of $15 USD. You will get access to the following files:
In Extremis Spreads
66 MB
Star Map by mv LIGHT.pdf
3 MB
Star Map by mv DARK.pdf
3 MB
Coven Provided Copies
Support this necromantic fantasy at or above a special price point to receive something exclusive.
The Coven Provides for Their Own
Want a copy of the game and can't afford it right now (or ever?)
Pick one up, no questions asked, courtesy of The Coven.
Download demo