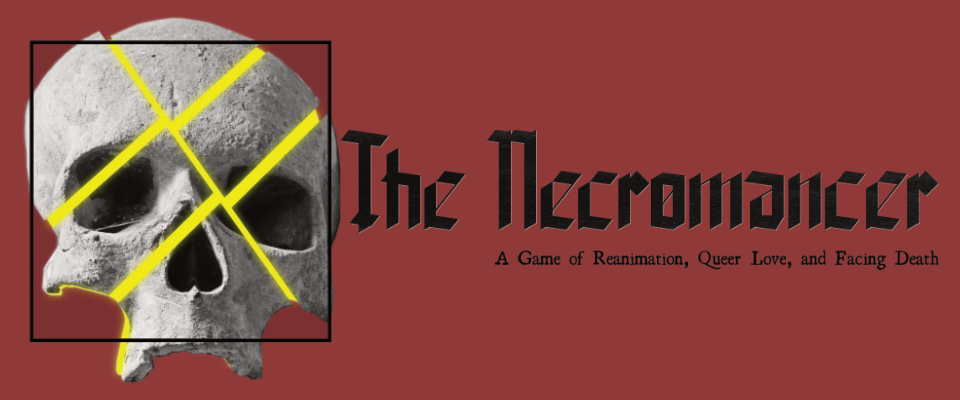 The Necromancer
4/11/21: The Necromancer has been released! Thank you everyone who pre-ordered!

Some specific content to be aware of includes: physical injury, abandonment, death & sickness (as well as descriptions of both, in both people and animals), and general misery.

The Necromancer is a one player The Wretched hack that uses birthday candles, a tarot deck, a 6 sided dice, and a journal to tell the queer story of a necromancer desperate to return their dead love back to life. I made heavy use of The Wretched & Alone SRD in writing this, but it is a stand alone game!

The Necromancer funded via Itch instead of using Kickstarter or another contemporary. This funding platform allowed me to guarantee a game, without stressing about a time based goal, or total funding numbers, but also get things to make it nicer as I went, and it was a smashing success! In the end we raised a little over $400 which was massive! To look at other games that are itchfunding, go check out this list I made here!

Stretch Goals:
$100: I buy some stock art to make the interiors all look nicer.
$200: I pay an editor to give the game a once over! I'll be using my usual editor here, who I get extra cheap because we are married.
$300: I add 50 community copies to the pool, and I'll make a donation to The Collective for Radical Death Studies, an international organization formed to decolonize Death Studies, and radicalize death practice.

Necromancy is a curse and a disease, and it inevitably kills the practitioner. You're not entirely sure what you did to become a necromancer, but you know that the forces of life and death themselves now bend to your will. Upon the discovery of your necromancy, the town you live in pushed you to the very outskirts. They now treat you with scorn and derision, as if the whims of fate had been yours to command, and you chose this death sentence for yourself.
You are hideously powerful, you could snap a mortal in twain with but a thought if you wished to. You can make legions of corpses rise from the dead and dance for days without exerting yourself at all. As far as you are aware, the one thing you can't do seems to be true resurrection. Animating a body and reattaching a soul are two entirely different things, and what good is one without the other?
Your partner has recently died. As you aren't blessed with foresight, you didn't see it coming, but you are possibly the only person who can fix this. You can bring them back. You found a book which contains a ritual to revive them for real, but it's dangerous, and you know that using your powers will hasten your own death if you aren't careful. The ritual is incomplete, and your earnest belief is that the person who wrote it probably died trying to complete it.
You have to give it a try, though. Your death, your failure, is almost inevitable… but you know they would have done it for you, and there is a chance it will work out. There is a chance you can see them again.
You'd do anything for that chance.

Sam Leigh (Anamnesis, Pangolin Prom) - "[...] I need to inform you that The Necromancer fucks"
Adira Slattery (Tension, Harusexy) - "The Necromancer will make you cum"
Roland Boschnack (Mëch Borg, War Dog) "This is a Wretched & Alone solo journaling game about coming to grips with death. You play a necromancer desperately trying to revive their lover. As in all W&A titles, this is very unlikely. Unlike most others, even if you succeed, you'll be irrevocably changed. This game is absolutely unflinching. The theme throughout is that you should stop screwing around with magic and let them go. Every "breakthrough" is heart-wrenching and comes at a cost. Every failure is a warning. It is absolutely fucking amazing."

Purchase
In order to download this tragedy you must purchase it at or above the minimum price of $10 USD. You will get access to the following files:
The Necromancer.pdf
97 MB
The Necromancer.docx
815 kB
Community Copies
Support this tragedy at or above a special price point to receive something exclusive.
Community Copies
If for any reason you can't afford a copy of the game, help yourself to a community copy of The Necromancer. This is a game I care a lot about, and I really want people to be able to play it, and to that end I will try to keep a number of Community Copies in the pool at any given time so that folks can access it more easily.